LifeSavers Foundation and the Pregnancy Resource Center are working together to provide pregnancy care and resources to women, children, and families in the Mesquite and Richardson areas.
What is the Pregnancy Resource Center?
The Pregnancy Resource Center is a safe place for pregnant women to turn for support and help in Rockwall, TX and Mesquite, TX.
Pregnancy comes with an overwhelming surge of emotions and questions: Am I ready for this? How do I tell my family? What are my options? What should I do next? Depending on the circumstances of conception, women may feel afraid, confused, or ashamed. Additionally, some women may not have access to the resources or healthcare services they need while their body is going through something so profound.
The caring team at the Pregnancy Resource Center welcomes women from all walks of life without judgment. Our trained team members work one-on-one with our patients to help them understand all their options and their associated outcomes. The Pregnancy Resource Center also provides free education about having a healthy pregnancy and becoming a parent.
"We meet women in such a desperate, difficult place sometimes where maybe a pregnancy brings them to us, but there are layers and layers of other issues going on in their lives," said Shannon Weishuhn, a registered nurse. "I love the way the Lord allows us to step into the lives of women through this work at the Center. I think it's an honor."
In addition to counseling and emotional support, the Pregnancy Resource Center provides free healthcare services, including:
Lab-quality pregnancy tests that can detect pregnancy early with 99% accuracy.
Ultrasounds that can determine the viability of a pregnancy, how far along the pregnancy is, and whether there are any health or safety concerns that need to be monitored or addressed. All ultrasounds are performed by a licensed nurse.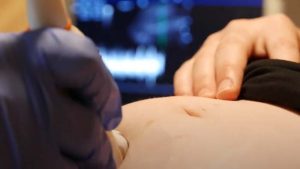 The Pregnancy Resource Center has served nearly 24,000 women since 2000.
Providing healthcare services to women in Mesquite and Rockwall
For some women, getting to the Pregnancy Resource Center can be a challenge. If a woman doesn't have a car or access to public transportation, she may feel she has no way to get the care and help she needs.
LifeSavers and the Pregnancy Resource Center have found a way to bring care directly to these women with the mobile sonogram unit. The mobile unit is fully equipped for registered nurses to provide comfortable, completely private sonograms for women, along with other health services.
"At the Pregnancy Resource Center, many times we see people who have a difficult time getting to us," said Weishuhn, who works as an RN on the mobile sonogram unit. "We have been fortunate to partner with the LifeSavers Foundation to get this mobile clinic out in the community."
The mobile sonogram unit has provided sonograms and pregnancy tests to over 6,050 people since it was launched in (year).
LifeSavers and the Pregnancy Resource Center are dedicated to many more years of partnership, supporting the women, children, and families of Rockwall/Mesquite.
Visit yourprc.org to support and learn more about the Pregnancy Resource Center,