LIFESAVERS SPRING LUNCHEON WITH
HILTON DALLAS LINCOLN CENTRE
Tim Tebow is a two-time national champion, Heisman Trophy winner, first-round NFL draft pick, and a former professional baseball player. The four-time New York Times best-selling author, speaker, and football analyst is most passionate about his work to bring faith, hope and love to those needing a brighter day in their darkest hour of need. His story begins with his mother who faced a dark hour prior to his birth.
Pam Tebow revealed, "My doctor said that I needed to abort quickly and my life was in danger. When [my doctor] delivered Timmy, he said it was the biggest miracle he had ever been a part of."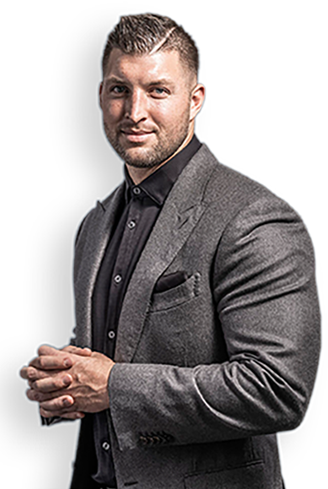 LIFESAVERS SPRING LUNCHEON WITH
HILTON DALLAS LINCOLN CENTRE
Spring 2022 Luncheon
Renaissance Hotel Dallas Addison – April 21, 2022
Spring 2022 Luncheon Montage Video
On October 21, Kirk Cameron spoke at the LifeSavers Foundation Fall Luncheon.
Kirk Cameron is a television/film actor and producer and is best known for his loveable roles as "Mike Seaver" on ABC's Growing Pains and "Buck Williams" in the Left Behind movies. He also co-hosts The Way of the Master faith-based, reality TV series. Kirk hosted the American Campfire Revival—100 Day Plan, and stars in a new family film based on a true story about the value of life and the beauty of adoption. Kirk and his wife, Chelsea, live in California and have six grown children.
Watch a short recap of our Fall Luncheon featuring Kirk Cameron. 
Michelle Aguilar is the Season 6 Winner of The Biggest Loser. The 26-year-old Ft. Worth, TX resident started the competition at 242 pounds and lost 110 pounds claiming the show's $250,000 grand prize. Today, she is a speaker for the Women of Faith Tour and author of the book, Becoming Fearless: My Ongoing Journey of Learning to Trust God.
Thank you to all who attended and sponsored our Annual Spring Luncheon & Boutique. Your support helps women and children in need in the Dallas Fort Worth area.
Watch this short video recapping our Spring Luncheon and revealing a BIG announcement regarding our Fall Luncheon.
Haven't received your Spring Luncheon VIP pictures yet? For your VIP pictures with Dr. Ben Carson email John@PlatformCreator.com. Below is a recording of the event.