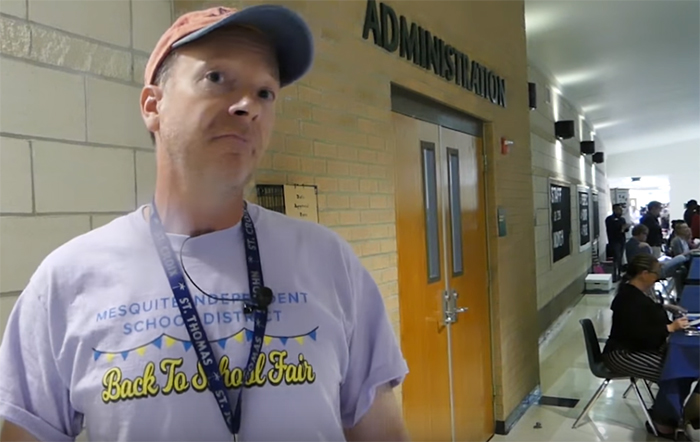 My name is Tom Edwards. I am a social worker for Mesquite ISD. This is our fourth annual back to school event. We had a great turnout this year in spite of the rain. It's a free event for all of Mesquite ISD.
We have about 40,000 students in total and we'll hopefully have 2,500 to 3,000 go through today. We do a little bit of everything at this event. It's a community event, so everybody is welcome. We'll have free immunizations, free physicals for our kids, free blood pressure checks, free shots provided by The Doctor Spot, free haircuts, and of course free backpacks at the very end.
We have a lot of community vendors here so we want folks to know what resources are available here. We want folks to be able to start out the school year all ready to go. We're trying to remove barriers. It's really expensive nowadays to get new clothes, backpacks, and school supplies for school, so this is one way that we can help families and kids so that there are no barriers when starting school.
We're really grateful to The Doctor Spot. Many of our kids go there for their physicals, for sick visits or for shots. I work with a lot of our homeless kids and families and a lot of them struggle finding access to medical care. Our families that don't have a permanent place to stay, whether they're staying in a car, staying at a friend's house or couch surfing, I can take them straight there and they'll receive quality care. [Chandra] spends a long time with the kids and gets to know them well so she can give them comprehensive care. That's really important because a lot of our kids don't get that type of quality care a lot of times. We're very fortunate that she's out here and willing to see our kids.